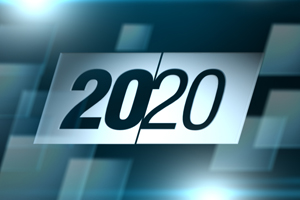 OK. I've kept it a secret for three months…
I'M GOING TO BE ON 20/20!!!
I got the call in March. One of their producers read my article, How to become the Luckiest Person You Know.
HERE'S THE BEST PART: their upcoming episode is all about (get this) … people who create their own luck!
That's me!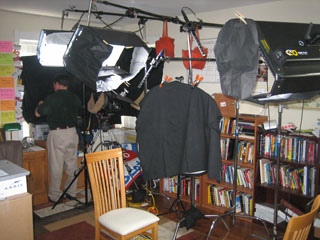 Anyway, their crew flew down from New York City, came to my office, sat in the audience of one of my speeches … even rigged me up with "Nametag Cam!"
Sure, they completely took over my entire office. But it was a blast. And I'm excited to see how the segment turns out.
(Boy, ABC brings a lot of gear, huh?)
REMEMBER: tune in THIS FRIDAY, June 15th on ABC's 20/20 at 10 PM Eastern!
And if you can't watch it, don't worry … it'll be on YouTube by next week.
ONE FINAL NOTE: you're probably wondering, "How in the world did you get on 20/20?"
Check this out.
In March, 20/20 online posted this page.
It's a online form.
You fill it out, share your "lucky" story and HOPE that 20/20 maybe calls you back.
Who knows how many thousands of other people you're competing with?
I guess you could say it would be "lucky" if you got the call.
That is, if you actually believed in luck.
Which I don't.
That's why I NEVER filled anything out.
And miraculously, they called me.
Here's why…
Because the producer, who was creating a piece about "lucky people," went onto Google and did a search on the exact phrase "the luckiest person you know."
And out of 539,000 pages, guess who's article came up first AND second?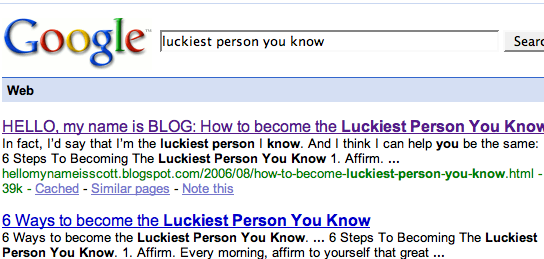 LESSONS LEARNED:
1. Writing is the basis of all wealth.
2. It ain't about luck.
3. Stick yourself out there; get them to come to you.
LET ME ASK YA THIS…
Who's the luckiest person you know?
LET ME SUGGEST THIS…
What do they do that nobody else does?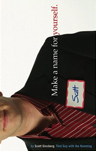 * * * *
Scott Ginsberg
That Guy with the Nametag
Download Scott's new book!
Right here, right now, for FREE, no strings.