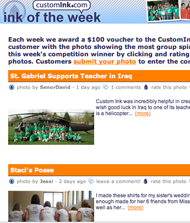 CustomInk is the web's most advanced virtual store for custom decorated merchandise.
Customers are empowered to design and order customized apparel, drink ware and novelties for their businesses, teams, groups and events with greater ease, speed and value than ever before.
BUT WAIT, IT GETS BETTER: they understand Approachability 2.0 better than most Fortune 500 companies.
For example: On their Ink of the Week Blog, each week they award a $100 voucher to the CustomInk customer with the photo showing the most group spirit!
First, customers submit their photo to enter the contest.
Then, blog visitors pick the week's competition winner by clicking and rating their favorite photos!
Coolest thing ever done by a t-shirt company in the history of t-shirt companies!
See, CustomInk gets it. Their Approachability 2.0 idea WINS because:
1. It's fun.
2. It's cool.
3. It participative.
4. It's emotional.
5. It cultivates fans, not customers.
6. It spreads word of mouth.
7. NOBODY else does this.
8. It builds community.
9. It shows and proves instead of just telling and selling.
10. It's the best testimonial in the world.
11. It shows the benefit of the benefit of the benefit.
LESSONS LEARNED:
1. Customers need to see PICTURES of other customers using, wearing and enjoying your products.
2. It's 2007. Get a blog.
3. Approachable always wins.
LET ME ASK YA THIS…
Why aren't you blogging yet?
LET ME SUGGEST THIS…
Start a blog TODAY, but don't be like 50% of all bloggers in the world and abandon your blog after two months. Stick with it! It pays off. Eventually.
* * * *
Scott Ginsberg
That Guy with the Nametag
---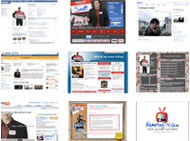 Are you a friend of The Nametag Network?
Read more blogs!
Rent Scott's Brain!
Download articles and ebooks!
Watch training videos on NametagTV!
Make a name for yourself here…
---