Just finished an interview with my new friend, Dean Jackson, from Marketing Monday.
We had great discussion about one of my favorite topics, PERMISSION.
In sales.
In marketing.
In conversation.
You can read the transcript or download the MP3!
Enjoy!
LET ME ASK YA THIS…
What's your best Marketing Monday tip?
LET ME SUGGEST THIS…
Post it here!
* * * *
Scott Ginsberg
That Guy with the Nametag
---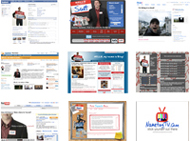 Are you a friend of The Nametag Network?
Read more blogs!
Rent Scott's Brain!
Download articles and ebooks!
Watch training videos on NametagTV!
Make a name for yourself here…
---