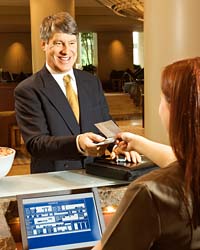 Your customers are tired.
Tired of terrible service.
Tired of getting the run around.
Tired of waiting in lines all morning.
Most importantly, they're tired of hearing excuses.
THE GOOD NEWS: there IS a way to offer more approachable service!
Here is a list of eight phrases (er, excuses) your customers don't want to hear; AND, several alternative phrases that payses you can use instead.
1. "I'm sorry."
Sorry is negative.
Sorry is problem-oriented.
Sorry is usually followed by excuses.
Sorry is focused on the wrong person.
Sorry is sucks the positivity out of a conversation.
Now, this doesn't mean you shouldn't over-apologize. Instead, consider framing your response differently.
PHRASES THAT PAYSES
"Thanks for telling me."
"Thanks for bringing that to my attention."
"That's horrible!"
"I have no excuse. You're right."
"I apologize."
2. "That's not my job."
Too many front line employees evade personal responsibility and professional accountability.
REMEMBER: part of your job is to reassure the customers.
That you're on it.
That you're taking ownership of the problem.
That you're going to find a solution; even it's not your job.
PHRASES THAT PAYSES
"I will personally take care of that."
"I will take ownership of this problem."
"And for future reference, the person who usually handles that problem is…"
3. "There's nothing I can do," or "I can't."
Negative language! No good.
Focus instead on what you CAN do. On solutions; not problems.
REMEMBER: there's always something you can do; even if it simply means finding the right person to help.
PHRASES THAT PAYSES
"Good news!"
"You're in luck!"
"Here's what I CAN do."
"Today's your lucky day!"
"The best way for me to help you RIGHT NOW is…"
4. "I don't know."
That's OK. You can't know everything!
Still, you want to reassure your customer. So, remember to first lay a positive foundation and then reassure the customer that her problem will be addressed.
PHRASES THAT PAYSES
"Let me find out for you."
"Let me look that up for you."
"Good question! I'm not exactly sure, so let me ask someone who DOES know."
5. "Our policy is…"
The mere mention of the word "policy" sends a chill down customers' spines.
So, try shifting your verbiage to something more approachable.
PHRASES THAT PAYSES
"Our guidelines are…"
"In order to be fair to everybody."
"Let me make an exception for you."
6. "You'll have to call someone else."
This is called Punting. Passing the Buck. Evading Responsibility.
And customers are tired of it.
So, even if it's not your job or area of expertise, you can still be of assistance.
PHRASES THAT PAYSES
"Here's who you CAN call…"
"Let me connect you with George, he has the answer to your problem!"
7. "He's not here."
Especially if your goal is to achieve first call resolution, avoid this phrase!
Who knows? Maybe you can answer the question for a coworker who isn't available.
Remember: we live in a fast-paced, hyperspeed, A.D.D culture. Customers want answers NOW!
PHRASES THAT PAYSES
"Steve's unavailable right now, but MY name is Karen; is there anything I can do to help?"
"Steve's out of the office right now, but is there a question I might be able to answer?"
8. "As soon as possible."
ASAP. When I get a chance. When I get around to it.
All of these phrases make customers think, "Yeah right!"
You need to emit a sense of urgency, confidence and reassurance. Try these:
PHRASES THAT PAYSES
"Right away."
"Immediately."
"Give me fifteen seconds."
NOTE: for a free, dowloadable copy of my ebook, 117 Phrases That Payses, go to www.hellomynameisscott.com, login if you're a first-time friend, then scroll down to the "Free Ebooks" section.
LET ME ASK YA THIS…
What other phrases do customers (not) want to hear?
LET ME SUGGEST THIS…
Post your alternative phrases that payses here!
* * * *
Scott Ginsberg
That Guy with the Nametag
www.hellomynameisscott.com

Are you the luckiest person you know?
Watch Scott's interview on 20/20!