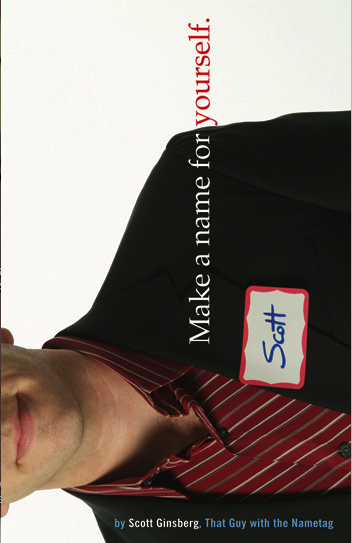 2,372 days ago, I made the most important decision of my entire career…
I decided to wear a nametag all day, every day, for the rest of my life.
My name is Scott Ginsberg.
I'm That Guy with Nametag.
And this is my story.
It's called Make a Name For Yourself.
Friends, this book will knock your socks off.
It's the best work I've ever created to date.
And if you read it, study it and put it to action, you WILL make a name for yourself too.
But don't take my word for it. Listen to what a few of my heros had to say about it…
"Scott Ginsberg is THAT GUY. His book will make YOU that guy, if you buy it read it, and put it into action, not only will you make a name for yourself, you'll also make a bank account for yourself. Sweet." –Jeffrey Gitomer, Bestselling author of The Little Red Book of Selling
"Scott's fourth book is funny, informative, educational, and compelling – all rolled up in one book. I am strongly recommending it to my network!" –Dr. Ivan Misner, Founder of BNI and NY Times Bestselling author

OK. So, here's the deal guys. You have three options:
1. Buy the book on Amazon.com.
2. Buy the book on my website.
3. Download the ENTIRE BOOK for free, right now.
Obviously, I recommend options 1 or 2. However, if you simply can't wait, please feel free to download the ENTIRE book for free, right now, no strings attached.
WARNING!! Understand that if you DO download this book for free, you WILL want to buy it by the time you're done.
Because if you don't make a name for yourself, someone will make one for you.
Scott Ginsberg
That Guy with the Nametag
www.hellomynameisscott.com