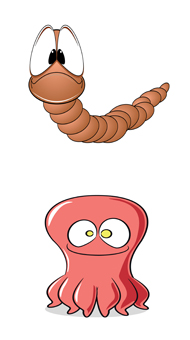 September 03, 2007 12:59 PM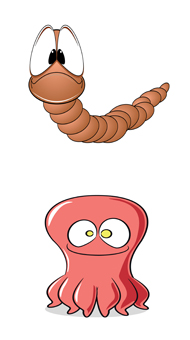 The major problem with your website is that it's an earthworm.
It only reaches out in one direction.
You need to be more like an octopus.
Reaching out in multiple directions.
I believe this is the single biggest online mistake made by businesspeople today.
They have a web-SITE … when what they really need a web-PRESENCE.
Consider these three C-trends:
COMPETITION. The web is no longer the property of the elite, the tech-savvy or the big companies. Any ten year-old kid with a modest knowledge of how the Internet works can set up a website in less than a half-hour! This means that the barriers to entry are almost non-existent.
WATCH THIS: if you aren't building your web presence, odds are your competitors ARE.
CHOICES. Customers have more choices than every before. This means they are going to seek out the best. And in their minds, the "best" probably means "the first hit on Google." So, without a powerful web presence, you're going to end up on page 11 of a search that never got finished. The customer just picked the first company on the list and called it a day.
WATCH THIS: if you ain't first, you're last! (Thanks, Ricky Bobby)
COMMUNICATION. Instant messenger, email, widgets, search engines, blog directories, social book marking software, RSS feeds, widgets, blog comments … these are just a few of the way customers are going to seek you out. See, the nature of the web allows people to obtain information according to THEIR needs and THEIR learning style. So, if there's only ONE way to get a hold of you, Mr. Earthworm, you've just alienated a LOT of potential customers!
WATCH THIS: if they can't get a hold of you, they'll just move onto the next guy.
Considering these three trends, there's no doubt about it: you need a web presence.
If you want to make your company more e-approachable, remember these three Tentacle Tips:
TENTACLE TIP #1: Publish
The most effective tool for expanding your web presence is to through writing. Whether it's via blogs, articles or messages boards, your unique voice needs to be out there, delivering value regularly. More importantly, everything you write needs a built-in response mechanism that filters readers back to your baseline.
REMEMBER: writing is the basis of all wealth. So, while you don't have to like it, you still have to do it!
TENTACLE TIP #2: Experiment
The list of social networking sites, blog platforms and other online communities is growing exponentially. Some are great, some suck. So, be open to trying new ways to expand your web presence on a regular basis.
REMEMBER: watch your industry leaders closely. Emulate (don't imitate) their octopus-like behavior and stick with what works for you.
TENTACLE TIP #3: Internetworking
Once you've spread your tentacles out to various sources, you need to interconnect them. To do this, establish your own online neighborhood. Create a landing page that cross-promotes each of your websites. You could even create a toolbar, set of icons or "network menu" at the top of each of your sites. This keeps the customer aware of your multiple sites, plus demonstrates diversification of value.
REMEMBER: you can't expect customers to connect the dots. Grab them by the shirt collar, pull 'em in close and show 'em what you've got!
Look, it's 2007, Holmes.
Just having a website is no longer enough.
Considering these trends in competition, choices and communication of the web, the bottom line is,
You need to be everywhere.
LET ME ASK YA THIS…
Are you an octopus or an earthworm?
LET ME SUGGEST THIS…
Make a list of ten (potential) tentacles for your business. Try them all for six months. Keep the ones that work!
* * * *
Scott Ginsberg
That Guy with the Nametag
---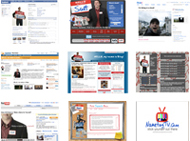 Are you a friend of The Nametag Network?
Read more blogs!
Rent Scott's Brain!
Download articles and ebooks!
Watch training videos on NametagTV!
Make a name for yourself here…
---
Bio
Author. Speaker. Strategist. Songwriter. Filmmaker. Inventor. Gameshow Host. World Record Holder. I also wear a nametag 24-7. Even to bed.
MEET SCOTT