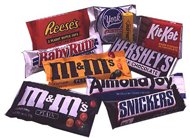 One of Edward DeBono's most underrated books is called, How to Have a Beautiful Mind.
In the opening he states:
"As you get older, physical beauty tends to fade. But beauty of the mind is independent of age and can actually increase with wisdom and experience."
LESSON LEARNED: Don't be eye candy; be brain candy.
Eye candy is an idiom of physical attractiveness that means "someone with high visual appeal, yet little or no substance."
Think Vin Diesel and Paul Walker in The Fast & The Furious.
Think Cameron Diaz, Lucy Lu and Drew Barrymore in Charlie's Angels.
Those movies were easy on the eyes. Fun to watch. No brainers. Mindless entertainment.
In other words, they didn't exactly stimulate your, um, cerebral cortex.
Brain candy, on the other hand, is a less common term. When you google the phrase, about a million hits come up, but few point to an actual definition.
In that case, allow me to define it…
Brain candy is an idiom of psychological attractiveness that means "someone with high mental appeal AND significant substance."
Here's how it works:
Brain candy is more ENDURING.
Because when you're 65, your butt won't look so hot.
Brain candy is more ATTRACTIVE.
Because it actually takes hard work; not just money, genetics and clothes.
Brain candy is more EQUITABLE.
Because it makes you, your brand and your organization more valuable every day.
Brain candy is more MARKETABLE.
Because customers will pay LOT of money for you to rock their (mental) world.
Brain candy is more APPROACHABLE.
Because when you're aligned with smart people, you look smart. And that IS sexy.
Brain candy is more MEMORABLE.
Because while physical attractiveness captures someone's EYE for a few minutes; psychological attractiveness capture someone's BRAIN and HEART forever.
To see these principles in action, I've created a list of some of my favorite people who are, in my opinion, brain candy. (Not that these people aren't pieces of EYE candy, too. But for now…)
NOTE: These people are in no particular order. I've sorted them alphabetically. Each of them is just as hot as the other 😉
Smokin' Hot Pieces of Brain Candy
1. Adam Kreitman – www.wordsthatclick.net
2. Alan Weiss – www.summitconsulting.com
3. Andy Sernovitz – www.andysernovitz.com
4. Angela Leib – www.angelalieb.com
5. Arthur Scharff – www.presidentscouncil.biz
6. Bob Baker – www.bob-baker.com
7. Don the Idea Guy – www.dontheideaguy.com
8. Eric Maisel – www.ericmaisel.com
9. Harlan Hodge – www.harlanbhodge.com
10. Jane Atkinson – www.speakerlauncher.com
11. Jeffrey Gitomer – www.gitomer.com
12. Joey Reiman – www.thinkbrighthouse.com
13. Karen Hoffman – www.theideacoach.com
14. Kirsten Carey – www.orangetree123.com
15. Lois Creamer – www.bookmorebusiness.com
16. Matt Homann – www.thenonbillablehour.typepad.com
17. Robbin Phillips – www.brainsonfire.com
18. Seth Godin – www.sethgodin.com
19. Viki Diedrich – www.limitedadditionsgallery.com
20. William Jenkins – www.jenkinsedex.com
Mmm … brain candy … delicious.
REMEMBER: Eye Candy eventually loses its flavor. Brain Candy stays sweet forever.
Take that, Vin Diesel!
LET ME ASK YA THIS…
Are you eye candy or brain candy?
LET ME SUGGEST THIS…
For the list called, "10 Ways to become a Smokin' Hot Piece of Brandy Candy," send an email to me, and I'll send you the list for free!
* * * *
Scott Ginsberg
That Guy with the Nametag
scott@hellomynameisscott.com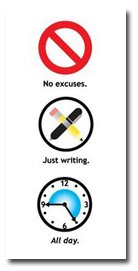 No time to write?
Can't finish that book?
Dog ate your last article?
Come to the St. Louis Writing Marathon!
No excuses. Just writing. All day.
I promise it will be the best $20 you'll spend on your writing career all year.
Learn more at www.writingmarathon.com!