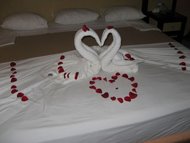 A few weeks ago I missed my flight from Toledo to St. Louis.
I ended up staying in some dumpy hotel next to the airport, ordering a pizza, renting a movie and calling it a night.
I flew home the next morning.
This type of thing happens to me every so often. Maybe once a year.
And while it used to frustrate me, I've now come to realize an important truth:
Hotel rooms provide a sterile, neutral environment where your heart can sing loudly.
Nothing on the walls but whiteness.
Nothing on the desk but plainness.
Nothing on the bed but blankness.
Ah, the hotel room. A beautiful place to be creative!
It's just you and … YOU.
A venue to constantly confront yourself, just BE, and just WRITE.
Sigh…
LET ME ASK YA THIS…
What unexpected venues heighten your creativity?
LET ME SUGGEST THIS…
For the list called, "9 Things Every Writer Needs to Do Every Day," send an email to me, and I'll send you the list for free!
* * * *
Scott Ginsberg
That Guy with the Nametag
scott@hellomynameisscott.com
What's YOUR approach?
Join The Nametag Forums! Share stories, best practices and connect with a like-minded community of business professionals who stick themselves out there!