Because acknowledgment is a universal human need, listening is (initially) about AFFIRMATION.
Making people feel valued, validated and important.
See, human beings shape their self-image based on how they are responded to by others.
For example:
o If someone grew up hearing messages like, "I don't wanna hear it right now!" and "Stop asking so many questions!"
…it's likely that she would develop a reticence when approaching people in the future.
o On other hand, if comments like, "Tell me more!" and "That's a great question!" were ingrained into someone's mind…
…his future level of approachability would be dramatically different.
For that reason, your (potential) influence as the listener is powerful.
So, you MUST take the opportunity to lay a foundation of affirmation. That way your employees will authentically open up to you.
AND REMEMBER: Even if you don't care FOR, approve OF or agree WITH someone's ideas, when they approach YOU in need of a bended ear, you job is to let them know thahttp://www.blogger.com/img/gl.link.gift you heard them.
Here's a quick list of 8 Phrases That Payses to help affirm your speaker:
1. You're raising an important issue.
2. Great question!
3. I'm really glad you brought that up.
4. When you said (x), that triggered the following thought for me…
5. I'm SO glad you asked that question.
6. Interesting point.
7. That is one option we will need to look at.
8. I was hoping you'd ask that question!
(If you need more, you could always consult your friendly affirmation ball.)
Verbiage like this is positive, approachable and affirming. And the best part is, it advances the conversation into a mutually shared space in which people feel safe to open up to you.
And THAT enables you to learn what's going on with your employees, uncover problems and suggest solutions.
SO REMEMBER: Growing bigger ears is (first) about laying a foundation of affirmation.
LET ME ASK YA THIS…
How do you affirm your employees and team members?
LET ME SUGGEST THIS…
Share your three best Phrases That Payses here!
* * * *
Scott Ginsberg
That Guy with the Nametag
scott@hellomynameisscott.com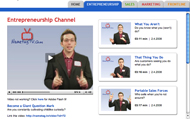 Want your employees to open up to you?
Tune in to The Entrepreneur Channel on NametagTV.com!
Watch video lessons on growing bigger ears!