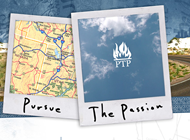 Pursue the Passion is a group of three recent college grads who embarked on cross country roadtrips to interview passionate professionals about their career paths.
I've been following their story for about a year now.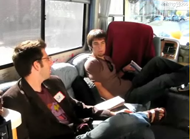 Their tour recently took them through St. Louis.
I had a chance to meet Brett Farmiloe, James Whiting, Noah Pollock and Zach Hubbell in person.
We had a blast talking about passion, commitment, and of course, not making any money in the beginning! (This pic is from the inside of their (sweet) RV!)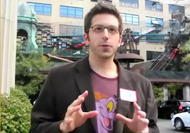 Anyway, totally cool guys with a totally cool idea.
I had some trouble embedding the video into this post, so you can watch the clip on the website of their sponsor, Jobing.com.
Watch the video montage HERE.
LET ME ASK YA THIS…
What would you be doing if you weren't doing what you're doing?
LET SUGGEST THIS…
If you can't imagine doing anything other that what you're doing, that's a good sign!
* * * *
Scott Ginsberg
That Guy with the Nametag
---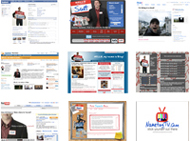 Are you a friend of The Nametag Network?
Read more blogs!
Rent Scott's Brain!
Download articles and ebooks!
Watch training videos on NametagTV!
Make a name for yourself here…
---