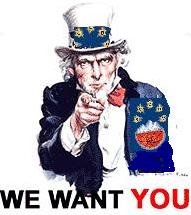 Anonymity is your greatest barrier to business success.
Thank God for the Internet, right?
After all, if there's one thing the Internet proves, it's this: if they want you, they'll find you.
Prospects.
Customers.
The media.
Everyone. If they want you, they'll find you.
FIRST EXAMPLE: My friend Ken once wrote an article for a trade publication. Sadly, the editor failed to include his bio at the end of the piece. All it said was his name.
He was stressed out. "What if my perfect customer reads the article, wants to learn more, then can't get in touch with me?"
ANSWER FROM 1987: "Ken, you're screwed. No new customers for you!"
ANSWER FROM 2007: "Ken, no worries. If they want you, they'll find you."
And find him, they did.
A few weeks after the article ran, Ken got several calls from readers who wanted to hire him.
THE BEST PART: he ended up working with several of those new clients for the next five years!
"I guess all they needed was my name and Google!" Ken reported.
Yep.
Because if they want you, they'll find you.
SECOND EXAMPLE: Many speakers ask audience members to fill out evaluations at the end of their programs. These feedback forms serve multiple purposes, namely, filtering in leads.
Common verbiage for such forms might be, "If you'd like to learn more about hiring Dave to speak at your company, leave your contact information here."
Cool. Not a bad way to solicit new business.
However.
After nearly five years of speaking professionally, I don't think I've EVER booked an additional speech because I followed up with someone who filled out my evaluation.
This likely happened for two reasons:
1. She wasn't really a buyer.
2. She called ME before I even had the chance to follow up.
WHICH MEANS: if you're good, if you've delivered value, if your service fills a need, and if they WANT you, relax. Don't sweat the bylines and evaluations.
So, three things to remember:
1. Have faith in your product. Follow the advice of my friend Carol who says, "Be amazing and let the phone ring."
2. Understand the way marketing works. Follow the advice of Talker Magazine editor Mike Harrison who says, "If you build it and they don't come it's because they DON'T want it."
3. Be findable.
LET ME ASK YA THIS…
Are you easy to find?
LET ME SUGGEST THIS…
Share your best "if they want you, they'll find you" story here!
* * * *
Scott Ginsberg
That Guy with the Nametag
www.hellomynameisscott.com

Are you the luckiest person you know?
Watch Scott's interview on 20/20!