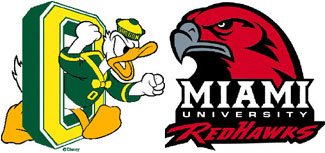 Thanks to Ye Olde Google Alerts, I stumbled across an article written by Matt Sussman discussing tomorrow's NCAA showdown between Oregon and Miami of Ohio (my alma matter).
I wont quote the whole article, but I about laughed myself out of my desk chair when I read this section:
For a school stowed away in Southeast Ohio's armpit, Miami sure has a lot of famous graduates: Woody Hayes, Weeb Eubank, Paul Brown, Ara Parseghian, Ben Roethlisberger, Ron Harper and Charlie Liebrandt
Not listed, but should be, is author Scott Ginsberg, known as "The Nametag Guy." He claims to have worn a nametag 24/7 for the last six years. (Most. Awkward. Sex. Ever.) He claims that the nametag not only gives him a profound level of approachability and confidence, but it keeps the evil pirate ghosts from invading his mantra and selling his soul for rum. Ginsberg is clearly a glaring omission on the list of notable MU alum. If only there were some way I could add his name to that Wikipedia list.
Cla-ssic.
But it gets better…
Read the comments on the article and hear a few of my old college friends chime in, a classic bit of hatemail, AND, my comment back to the guy who sent hatemail.
Special thanks to Suss for the link love.
GO MIAMI!!!!!
LET ME ASK YA THIS…
Who's the most famous person from your college?
LET ME SUGGEST THIS…
Tell us all about 'em!
* * * *
Scott Ginsberg
Author/Speaker/That Guy with the Nametag
www.hellomynameisscott.com